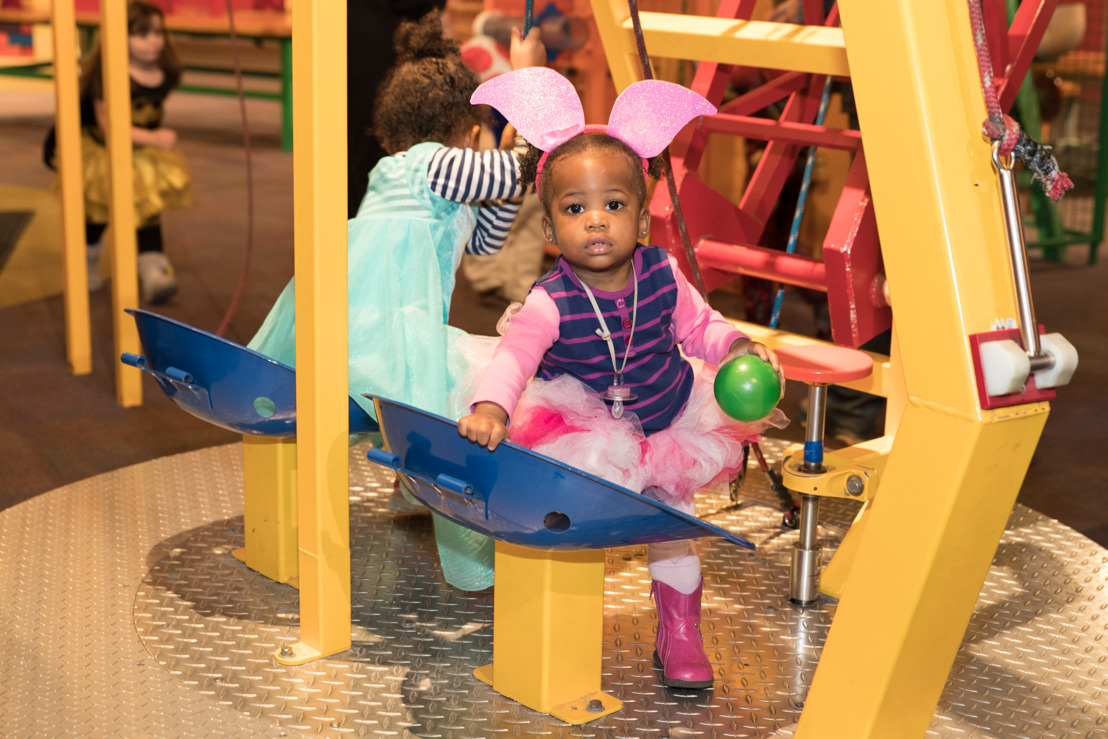 Children's Museum of Atlanta offers spook-tacular October programming
Little ones are invited to learn about animals, outer space, archaeology and more through the power of play!
Tuesday, September 25, 2018 — ATLANTA (September 25, 2018) – Calling all little pumpkins! Children's Museum of Atlanta is hosting a variety of hands-on programming throughout October to ring in the spooky season and other worldly celebrations! Kids are invited to explore the wonders of the universe with a World Space Week Kickoff event, unravel the past during International Archeology Day, arrive in costume to monster mash through special Halloween-themed activities and much more!
October Special Programming
World Animal Day
Thursday, October 4
Kids can celebrate World Animal Day by becoming a true Georgia wildlife detective at the Science Bar! Professor Labcoat will lead little ones in looking at feathers, bugs and animal hair under the microscope as well as examining ancient fossilized animals and sharing tips and tricks to help identify local animal prints.
World Space Week Kickoff
Friday, October 5
Families are invited to lift off the couch and visit the Science Bar to watch the live feed of the International Space Station and Hubble telescope images in celebration of World Space Week. Professor Labcoat will also teach kids how to calculate their weight on other planets with Space Math and how to use the sun (or a flashlight!) to tell time! As an extra bonus, children can design a rocket ready for lift off in the Build It Lab.
International Archaeology Day
Saturday, October 20
Throughout the day, the Science Bar is digging up tasks for little archaeologists to complete in honor of International Archaeology Day! Children will discover clues in unexpected places to determine the age of objects or places, unravel a mummy's riddle, learn to write in hieroglyphics, rebuild broken pottery or understand soil layers by filling a bottle with colored sand. Kids also have the opportunity to design their own pre-historic cave paintings!
Celebrate Diwali
Sunday, October 21
In Honor of Diwali, the Hindu festival of lights, special guest Kahaaniya for Kids will present a holiday puppet show that incorporates regional dances. To continue the celebration, families can listen to Diwali fables enhanced with traditional music, decorate Diwali candle holders, craft lanterns or explore the magic of light with prisms.
Read for the Record
Thursday, October 25
This special event is in support of Jumpstart's Mission: to work toward the day every child in America enters kindergarten prepared to succeed. Families can visit Children's Museum of Atlanta for an adventurous morning filled with activities. The 2018 featured book is "Maybe Something Beautiful" by F. Isabel Campoy and Theresa Howell and illustrated by Rafael López. The story demonstrates the positive impact art can have on a neighborhood and how the smallest contributions make a change for the better. To celebrate the kick-off event, families by pick up a paintbrush and take part in the Imaginators' Readers' Theater program that will bring the book and its characters to life.
Halloween Programming
Saturday, October 27 through Tuesday, October 30
Children's Museum of Atlanta is ringing in the spooky season with a four-day Halloween happening! Costumed kiddos can spin yarn spider webs, inspect ghoulish glow-in the dark objects and spooky insects, ride around on a broomstick or learn about emotions through the many faces of a Jack-O-Lantern.
October Ticketed Events:
Trick or Treat at the Museum
Saturday, October 27 from 6:30 – 8:30 PM
Calling all ghosts, goblins and boo'tiful princesses! One of Atlanta's most popular family-friendly trick or treating events is back with Halloween-themed arts and crafts, science experiments, playtime, prizes and surprises. Tickets are $10 (members) and $20 (non-members) and must be purchased in advance. Ticket prices will increase after October 22. Due to high demand, no tickets will be sold at the door.
Feature Exhibit: Daniel Tiger's Neighborhood: A Grr-ific Exhibit
Now-January 6
Daniel Tiger's Neighborhood: A Grr-ific Exhibit allows children to enter the world of Daniel Tiger and friends to explore the Neighborhood. Through immersive experiences, visitors collaborate to solve problems, use their imaginations to transform their surroundings and play along with Daniel's sing-able strategies as they learn life's little lessons. The exhibit, created by Children's Museum of Pittsburgh in partnership with The Fred Rogers Company, brings to life the themes presented in the PBS series such as community, communication and emotions, which enables young children to understand their feelings and those of their neighbors.
For more information about The Amazing Castle or Daniel Tiger's Neighborhood: A Grr-ific Exhibit daily programs, visit childrensmuseumatlanta.org/calendar.
Special Toddler Programs
Tiny Club Monday
10:30 a.m.
Designed for little minds, Tiny Club Monday offers FOODiE Club, SCiENCE Club, ARTiST Club and BUiLDER Club for children ages 2-5 and caregivers to enjoy together. The classes are each 30-minutes and offer hands on activities, professional instruction and the chance to create and learn something new!
Messy Thursdays
10:30 a.m.
Little visitors and guardians are invited to get messy! Messy Thursdays offer slime, finger painting and more! Let the Children's Museum of Atlanta clean up the mess while the little ones have a blast. There are new, messy activities every week to try, offering endless opportunities.
Toddler Jam Fridays
10:30 a.m.
Rock and roll into the weekend with this high energy, music-filled class guaranteed to shake out the wiggles and foster a love of music. Each week offers new songs, instrument play, circle time activities and, of course, dance breaks.