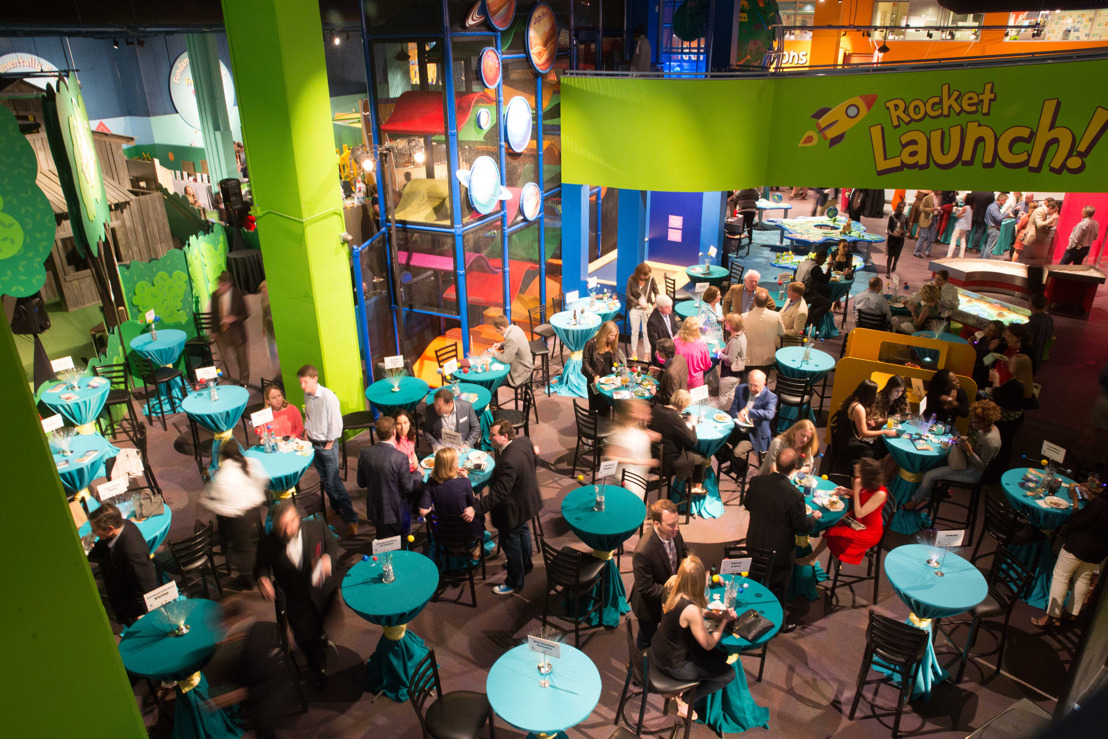 Children's Museum of Atlanta raises over $238,000 at Amuse'um benefit
Generous donations helped raise funds for Museum's early childhood educational programming and community outreach
Tuesday, May 17, 2016 — A crowd of more than 500 adult attendees had a blast at Children's Museum of Atlanta's 13th annual Amuse'um fundraiser, held on Saturday, April 16. The signature event, themed Out of this World and presented by Georgia Natural Gas, raised over $238,000 to support the Museum's early childhood educational programming and community outreach through sponsorships, ticket sales, and silent and live auctions.
"The continued success of this annual benefit is a true testament to the incredible enthusiasm and patronage of our community members and partners!" said Jane Turner, executive director of Children's Museum of Atlanta. "It is because of their ongoing support that Children's Museum of Atlanta is able to provide more impactful exhibits, educational programming and learning opportunities for children, families and schools throughout the state."
The event's "Out of this World" theme set the scene for an extraterrestrial evening, complete with galactic games, gastronomy and activities galore. Guests enjoyed hand-crafted cocktails and cuisine, an outer space scavenger hunt, photo booth fun, raffle giveaways and much more. Dedicated Museum supporter Nina Cheney served as the 2016 Event Chair, and other event committee members included Adam Abramson, Eleanor Anne Fann, Carlton Hudson, Tracye Miller, Caroline Smith and F. Michael Tesler.
The live action featured art by Steve Penley, an in-home catered dinner with wine pairing for eight people, Kennedy Space Center experience for four people, and more, while the silent auctions highlighted local restaurants, tickets to regional special events and unique items from Atlanta area stores – all of which helped to exceed the Museum's fundraising goal for the event. Popular items included courtside seats for an Atlanta Hawks home game, a premium suite to an Atlanta Braves vs. Nationals game, standup paddle boards, tickets to the Sea Lions Experience at the Georgia Aquarium and more!
All proceeds support the Museum's early childhood educational programming and community outreach that touches the lives of more than 200,000 children and families annually. Serving the children, families and schools in Atlanta and throughout Georgia, the Museum has welcomed more than 2 million visitors since opening in 2003.
About Children's Museum of Atlanta:
Children's Museum of Atlanta is the only educational venue of its kind in Atlanta, presenting educational programs and exhibits designed for young children ages 0-8. The Museum's mission is to spark imagination and inspire discovery and learning for all children through the power of play. With six permanent learning zones consisting of bright, creative and hands-on exhibits, the Museum supports inventive play-based exploration and experiential learning focused on the whole child. Core competencies for literacy, math and science are promoted throughout all exhibits and programming in alignment with the state and national Core Performance Standards. The Children's Museum of Atlanta also offers parties, memberships, field trips, summer camp and private events. For more information or to support Children's Museum of Atlanta, visit childrensmuseumatlanta.org or call 404.659.KIDS [5437].
###