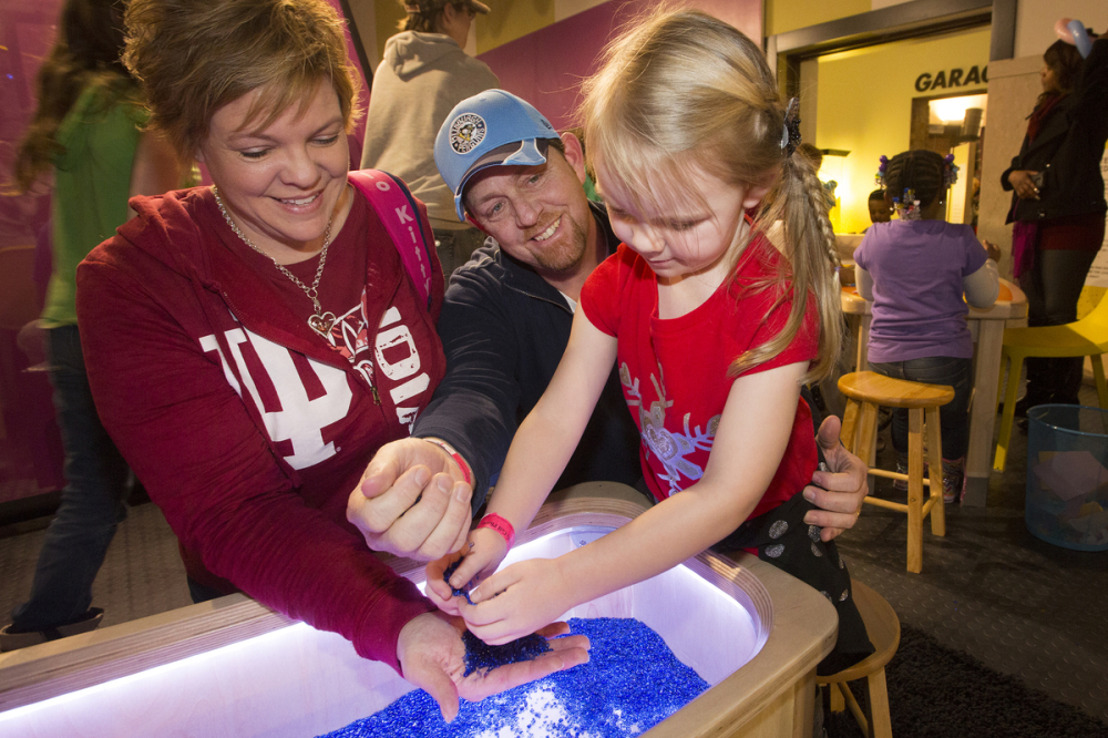 Children's Museum of Atlanta to host 'XOXO: An Exhibit About Love & Forgiveness' June 11 – September 4
Newest feature exhibit encourages children to explore, appreciate and express their emotions
Thursday, May 19, 2016 — Feelings are front and center at Children's Museum of Atlanta newest feature exhibit. XOXO: An Exhibit About Love & Forgiveness is an educational traveling installation created by Children's Museum of Pittsburgh with support from The Fetzer Institute. Coming to Atlanta June 11 – September 4, this introspective exhibit will explore the power of emotions and foster conversations that bring love and forgiveness to the forefront of families' minds.
"Healthy social-emotional development is the groundwork needed for children to effectively manage their emotions, face challenges, communicate clearly and form trusting relationships with others," said Jane Turner, executive director of Children's Museum of Atlanta. "XOXO is a phenomenal exhibit that promotes these essential emotional literacy skills and prompts family conversations about how we treat and interact with each other."
The 2,000 square foot exhibit features a brightly-colored, inviting space with 14 engaging experiences – all designed to help children understand, appreciate and express their emotions. Interactive activities include a sound recorder that analyzes tone of voice, a video station that interprets facial expressions, a soft sculpture that responds to hugs with comforting sounds and many more.
Exhibit experiences include:
Emotional Faces: In this activity, a sequence of words will appear on a screen to promote happy, sad, angry, frightened or hurt expressions. Guests can create a five second video of themselves making a variety of facial expressions as these words pop up. Then, by watching their expressions and the expressions of others on the wall, they can begin to recognize and identify how others are feeling.
Release the Negative: Guests will have the chance to write or draw something that makes them angry, sad or afraid on a piece of paper. Then, they will place it into a slot and turn the crank to manually shred the paper. Shredding the paper will help to release the negative and turn it into something positive – a colorful display wall of patterns, created using clear jars filled with the shredded paper!
Silhouettes: Children can trace a friend's profile onto a sheet of paper. This tracing requires concentration and careful attention to the person sitting for the portrait. Once drawn, silhouettes can be displayed and compared – allowing participants to explore the similarities and differences in each other. These traits are what make each and every one of us unique!
Tokens of Love: In this exhibit experience, visitors will write or draw a loving thought, idea or message on a piece of paper. They will then roll it up and put it into a custom-made paper compressor by pumping a lever to crush the paper into a smooth, round token embossed with a heart. Guests can give the token to a loved one or keep it as a heartfelt takeaway!
Holding Hands: Holding hands is a universal demonstration of friendship, trust and compassion. By holding hands and touching sensors in this interactive activity, children will complete the circuit and reveal a special, positive message.
Response Wall: Writing is an important way to express emotions. Children will answer questions about love and forgiveness, and then tie their paper to a wall for others to read. The result is a constantly changing collection of tags that highlight an emotional narrative of thoughts and feelings.
Empathy Blocks: For this activity, guests will create unique faces and build an assortment of expressions by combining diverse eyes, noses and mouths in multiple configurations. The facial features are printed directly onto hand-made wooden blocks, adding to the personal experience of looking carefully at another person's face.
Story Puzzle: Words and symbols are used to tell stories, make connections and stimulate conversation. The two puzzle shapes in this activity fit together to form paths, shapes and patterns, while also expressing key themes of love and forgiveness. A large tabletop allows several groups to work at the same time, letting them create their own unique puzzles or even join with another to form one big, shared story.
Balance: Children can sit on the teeter totter and work together to balance a ball encased in a long, clear tube. This interesting interpretation of a classic playground experience requires teamwork, communication and cooperation, as both participants must work in tandem to succeed. Balance is achieved when the ball is centralized.
Embrace: This activity features a variety of egg-shaped sculptures. When embraced or hugged, each sculpture responds with a positive sound, including ahhh-ing, mmmm-ing, chirping, cooing or laughing.
Tone Phones: How is a loud, angry tone different from a soft, kind tone? Tone of voice conveys emotions that impact how words are heard and understood. Visitors will speak into the telephone handset and watch as their voice changes the shapes projected on the screen.
Reflection Table: In this experience, guests can manipulate colorful granulated material across an internally lit sculpted landscape by covering and uncovering the surface of the table. As certain areas are uncovered, soothing music is played. Once covered, the music fades away and other areas and sounds are discovered in the table.
Art Making Station: The act of making and giving is a way to express love, admiration and care. Children can participate in a variety of crafts to create a special and meaningful takeaway. Art projects include love letters, a personalized box or envelope, a card or silkscreen print using their silhouette drawing and a necklace using their custom token.
Love letters: Using traditional hand letter writing materials, including postcards, stamps and even a manual typewriter, children will craft a message or image to someone they love! This program, developed by Artist Dalia Shevin, explores the magic of snail mail, the wonders of writing by hand and the delight of discovering how much love words can hold.
Entrance to the exhibit is included in each regular admission to Children's Museum of Atlanta. Admission for ages 1 – 100 is $14.95 (+tax). Children under one are free.
XOXO: An Exhibit About Love & Forgiveness was created in 2014 by Children's Museum of Pittsburgh, with support from The Fetzer Institute. XOXO is presented in Atlanta by The Coca Cola Foundation, Kaiser Permanente, Goodwill of North Georgia and PBA 30 – Atlanta's PBS Station. Support is also provided by the Fulton County Board of Commissioners. Major funding for this organization is provided by the Mayor's Office of Cultural Affairs.
For more information about XOXO: An Exhibit About Love & Forgiveness exhibit at Children's Museum of Atlanta, visit childrensmuseumatlanta.org/exhibits/xoxo-an-exhibit-about-love-forgiveness.
For more information or to support Children's Museum of Atlanta, visit childrensmuseumatlanta.org
or call 404.659.KIDS [5437]
About Children's Museum of Atlanta:
Children's Museum of Atlanta is the only educational venue of its kind in Atlanta, presenting educational programs and exhibits designed for young children ages 0-8. The Museum's mission is to spark imagination and inspire discovery and learning for all children through the power of play. With six permanent learning zones consisting of bright, creative and hands-on exhibits, the Museum supports inventive play-based exploration and experiential learning focused on the whole child. Core competencies for literacy, math and science are promoted throughout all exhibits and programming in alignment with the state and national Core Performance Standards. The Children's Museum of Atlanta also offers parties, memberships, field trips, summer camp and private events. For more information or to support Children's Museum of Atlanta, visit childrensmuseumatlanta.org or call 404.659.KIDS [5437].
Museum hours: **As part of its special summer hours, Children's Museum will be open on Wednesdays from 10 a.m. – 4 p.m. beginning June 8 through August 3, 2016.
Open Monday – Friday 10:00 a.m. – 4:00 p.m.; Saturday and Sunday 10:00 a.m. – 5:00 p.m. Please check the Museum website to confirm hours of operation.
Facebook: https://www.facebook.com/childrensmuseumatlanta
Twitter: https://twitter.com/ChildMuseumATL
Pinterest: http://pinterest.com/cmatlanta
# # #