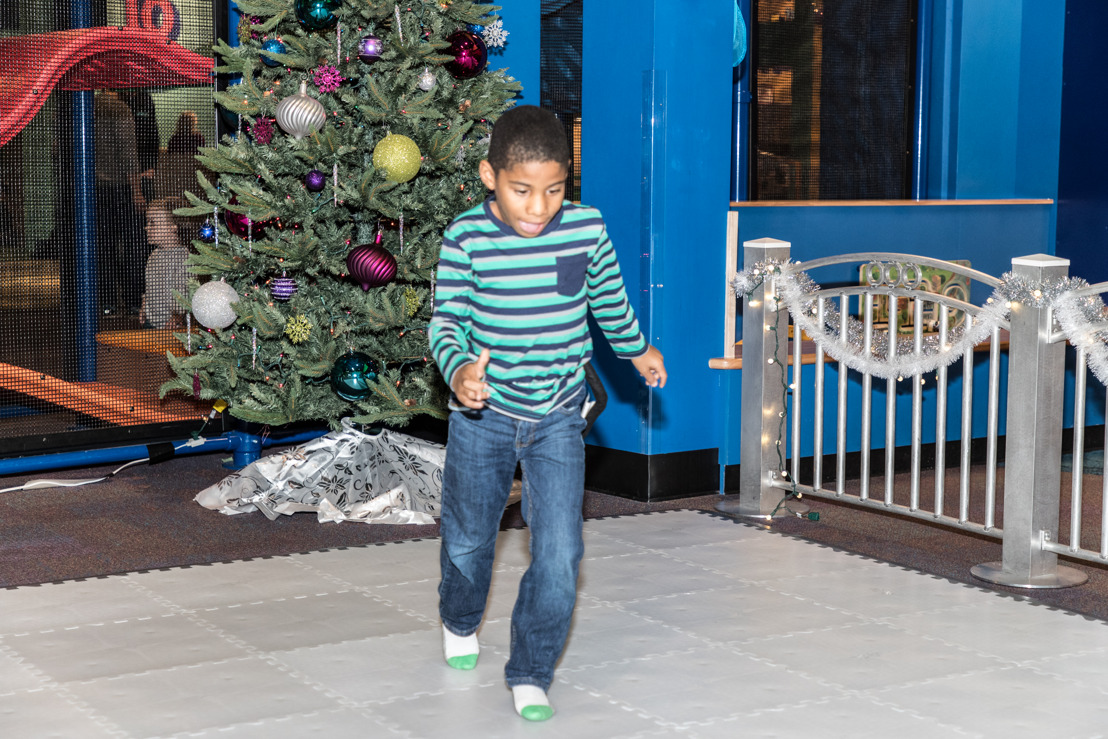 Ring in the holly jolly holidays at Children's Museum of Atlanta throughout December
Kids are invited to learn about Hanukkah, Las Posadas, Kwanzaa and Christmas
Thursday, November 29, 2018 — ATLANTA (November 29, 2018) – It's the most wonderful time of the year! Children's Museum of Atlanta invites families to hop into the holiday spirit with a merry month of celebrations! Little ones can learn about various holiday traditions around the world, including Hanukkah, Las Posadas, Kwanzaa and Christmas through Celebrations in Light! Children of all ages can also enjoy peppy puppet performances, beautiful ballets and sensational storytimes throughout December.
December Special Programming
Celebrations in Light Programming
Throughout December (except Dec. 1, 9, 15, 22, 29 and 31)
Kids can visit Children's Museum of Atlanta throughout December for Celebrations in Light programs to celebrate the traditions and tales of various holidays through decorations, interactive Readers' Theatre performances, music, crafts, stories and winter science! Activities include special storytimes, visits to Santa's workshop to make gifts for loved ones, winter-themed lessons at the Science Bar and more. For the daily programs schedule, visit childrensmuseumatlanta.org.
Foxy Christmas with Piccadilly Puppets
Saturday, December 1
Little ones can discover the true meaning of Christmas through this magical story about a hungry fox and a lonely bunny who form an unlikely friendship. Guest performers Piccadilly Puppets bring this tale to life with a special appearance from Santa Claus!
Celebrate Hanukkah: A Cultural Exploration
Sunday, December 9
Known as the "Festival of Lights," this eight-day Jewish holiday celebrates the fundamental rights of religious freedom. Families are invited to join Michael Levine of The Learning Grove as he shares Hanukkah stories and performs songs to celebrate the holiday! Children and parents can wiggle, move and groove throughout the day as they create special crafts, explore famous Jewish art, listen to themed stories and more.
Celebrate Las Posadas: A Cultural Exploration
Saturday, December 15
Niños pequeños can visit Children's Museum of Atlanta for a special celebration of Las Posadas with a guest performance by Alma Mexicana! Las Posadas is a nine-day religious celebration observed primarily in Mexico and by Mexican-Americans. Families participate in nightly Christmas processions that recreate the Holy pilgrimage of Mary, Joseph and baby Jesus on their way to Bethlehem.
Celebrate Christmas: A Cultural Exploration
Saturday, December 22
Christmas is the annual Christian holiday commemorating the birth of Jesus Christ and is celebrated by billions of people across the world. Celebratory customs include completing an Advent calendar or wreath; gift giving; decorating Christmas trees; and sharing the story of Santa Claus. To help Children's Museum of Atlanta celebrate Christmas, dancers from the Callanwolde School of Dance will be onsite to perform selections from their most popular ballets, The Polar Express and The Nutcracker!
Celebrate Kwanzaa: A Cultural Exploration
Saturday, December 29
Kwanzaa is a week-long celebration held in the United States and others nations of Western African descent honoring African heritage. With seven core principles, each featured during one night of the seven-day celebration, Kwanzaa culminates with a feast and gift-giving. Little ones are invited to learn about Kwanzaa with Atlanta's famed master storyteller and children's writer, Mama Koku! Mama Koku is a member of the Kuumba Storytellers of Georgia, the National Association of Black Storytellers and the Southern Order of Storytellers. She is the official teller of Coretta Scott King Book Awards Book Fair. Mama Koku is a "Rambler" for The Wrens Nest House Museum, a featured teller for Everybody Wins Atlanta and a teaching artist for Fulton County School's Teaching Museums.
Feature Exhibit: Daniel Tiger's Neighborhood: A Grr-ific Exhibit
Now-January 6
Daniel Tiger's Neighborhood: A Grr-ific Exhibit allows children to enter the world of Daniel Tiger and friends to explore the Neighborhood. Through immersive experiences, visitors collaborate to solve problems, use their imaginations to transform their surroundings and play along with Daniel's sing-able strategies as they learn life's little lessons. The exhibit, created by Children's Museum of Pittsburgh in partnership with The Fred Rogers Company, brings to life the themes presented in the PBS series such as community, communication and emotions, which enables young children to understand their feelings and those of their neighbors. For more information about Daniel Tiger's Neighborhood: A Grr-ific Exhibit daily programs, visit childrensmuseumatlanta.org/calendar.
Building Blocks: Early Learning Programs
Tiny Club Monday
10:30 a.m. (No event on Dec. 24)
Kiddos can choose between TiNY Science Club and TiNY Artist Club to enjoy a 30-minute class designed especially for kids ages 2 – 5 and their caregivers. Families can also check out TiNY Builder Club, a drop-in class held from 10:30 a.m. – 12:30 p.m. Each program offers hands-on activities, professional instruction and the chance to earn something new!
Messy Thursdays
10:30 a.m.
Little visitors and guardians are invited to get messy! Messy Thursdays offer slime, finger painting and more! Let the Children's Museum of Atlanta clean up the mess while the little ones have a blast. There are new, messy activities every week to try, offering endless opportunities.
Toddler Jam Fridays
10:30 a.m.
Rock and roll into the weekend with this high energy, music-filled class guaranteed to shake out the wiggles and foster a love of music. Each week offers new songs, instrument play, circle time activities and, of course, dance breaks.
December Ticketed Events
New Year's Bubble Bash
Monday, December 31 from 10 a.m.-12:30 p.m. and 1:30-4 p.m.
Special Pricing: $10 for Members; $20 for Non-Members
Ring in the New Year with Children's Museum of Atlanta! Families are invited to celebrate New Year's Eve with special activities, including a family-friendly DJ, dancing, party favors, confetti and, of course, bubbles! As a perfect alternative for little ones who aren't able to stay up to watch the ball drop, each session will feature a countdown to 2019. With two opportunities to celebrate the new year, guests are encouraged to purchase tickets to one of the time slots ahead of time by visiting childrensmuseumatlanta.org or calling 404.659.KIDS [5437]. Tickets will not be sold at the door and the Museum will be closed for general admission on December 31.
Museum Admission: Plan ahead and save! Families can purchase timed tickets online in advance to save money and guarantee entry to the Museum. Babies under 12 months and members are admitted for free. All daily programs are included in price of admission. Group rates and military discounts are available. For more information regarding ticket and membership options, visit childrensmuseumatlanta.org.
Museum Hours: Monday, Tuesday, Thursday and Friday 10 a.m. – 4 p.m.; Saturday and Sunday 10 a.m. – 5 p.m.; Closed on Wednesdays*.Please check the Museum website to confirm hours of operation.
*The Museum will be open on Wednesday, December 26.
Facebook: facebook.com/childrensmuseumatlanta
Twitter: twitter.com/ChildMuseumATL
Instagram: instagram.com/childrensmuseumatlanta
Pinterest: pinterest.com/cmatlanta