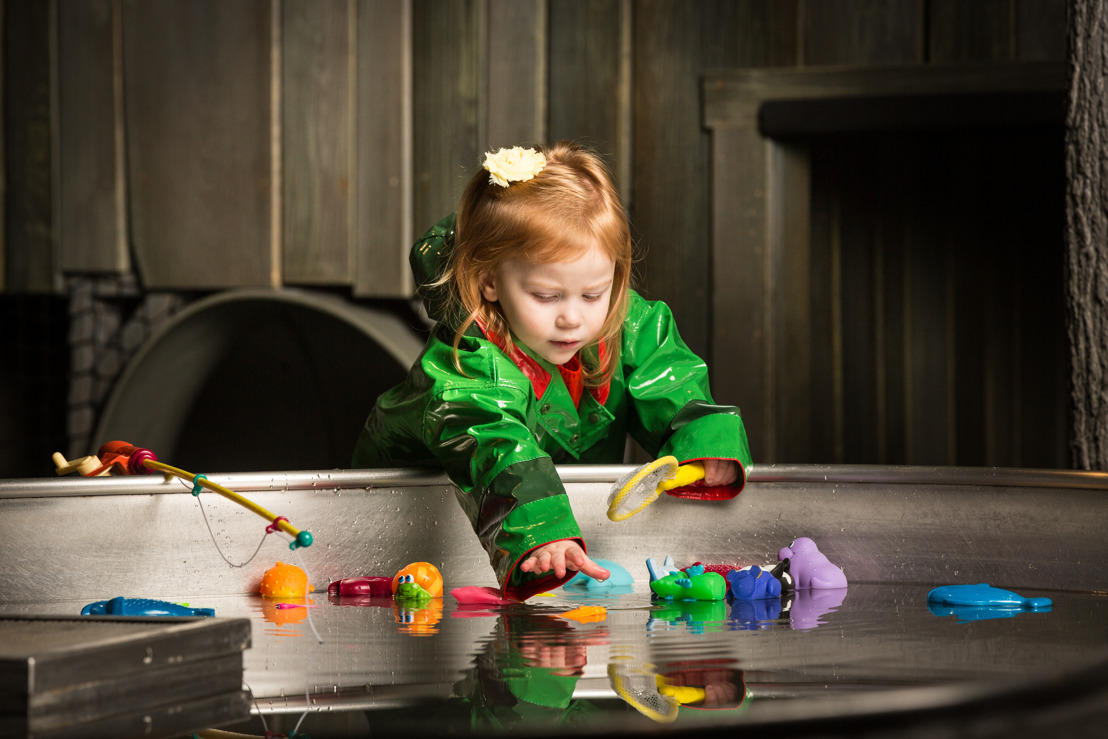 Splash into summer fun at Children's Museum of Atlanta this July
Blue Man Group – Making Waves feature exhibit and patriotic programming offer entertainment for all!
Tuesday, June 20, 2017 — ATLANTA (June 20, 2017) – Take a break from the heat with cool summer programming at Children's Museum of Atlanta! Families will have the chance to craft patriotic pinwheels, march in a Fourth of July parade, attend a guest artist event with steel pan music and prepare for the first day of school with a week-long program!
Feature Exhibit: Blue Man Group – Making Waves
Through September 4, 2017
The national touring exhibit, supported by Harman/Becker Automotive Systems and created by the Boston Children's Museum and Blue Man Group and powered by JBL®, will take the whole family through a multi sensory exploration of sound that provides an opportunity for everyone to play together while discovering the fun of music. The 1,500 square foot exhibit features six interactive stations where children will have an opportunity to see, feel and create sound just like the Blue Man Group.
Themed daily programming during Blue Man Group – Making Waves exhibit will occur through September 4, 2017. Programming subject to change and may be altered during special events. All programs included with admission unless otherwise noted.
Mini-Musical: A Sound Connection
Weekdays at 11 a.m., noon and 2 p.m.; Saturday at 11 a.m. and 2 p.m.; Sunday at noon. and 2 p.m.
Children will join robot W.A.V.E. and Caveperson Sonar on a journey through the Earie Canal to experience the wonder of sound by listening to animals in the wild and learning to dance like a sounds wave!
Story Time
Weekends at 1 p.m.
"Zoola Palooza: A Book of Homographs" by Gene Barretta
An exclusively animal musical group, Zoola Palooza is in town to teach little ones all about homographs – words that are spelled the same but pronounced differently and have separate meanings.
Music & Movement: Surround Sound
Weekdays at 1 p.m.; Saturday at 11 a.m. and 3 p.m.; Sunday at 11 a.m.
What sound is created when a stick crashes into a trash can? What happens when a pencil hits a coffee cup? Children can join the Imaginators in learning that sound is all around us when making music through found objects!
Super Spectacular Science Show
Weekdays at 3 p.m. and Weekends at 4 p.m.
Professor Lab Coat and his assistants will lead a mesmerizing science demonstration for the entire Museum.
Eat A Georgia Rainbow
Sunday at 3 p.m.
Children will embark on a scavenger hunt and cold cooking activity with the Imaginators to learn more about fruits and veggies harvested in Georgia throughout the year.
Art Studio Projects
Weekdays 10:30 a.m. –3:30 p.m.; Weekends 11 a.m. –4 p.m.
Little ones can discover colors and explore artists from around the world through various crafts like making and decorating a banjo, experimenting with powder paint, blow paint and splatter paint as well as creating a noise maker from recycled objects.
Build It Lab
Weekdays, 10:30 a.m. –3:30 p.m.; Weekends 11 a.m. –4 p.m.
Children will put their woodworking and creative tools to the test in this supervised space where they have access to real tools and materials. Encouraging inventions, this Build It Lab will spark creativity by allowing young innovators to build items such as a rain stick and drum.
Science Bar
Weekdays 10:30 a.m. –2:30 p.m.; Weekends 11 a.m. –3:30 p.m.
Science is everywhere, especially on the mezzanine at the Museum! Step Up to Science is the new STEM exhibit area and features interactive exhibits about light, robotics and how the human body works! Families can saddle up to the science bar for a full menu of fun activities, knowledge and have their questions turned into answers by one of the STEM educators.
July Special Programming
Fourth of July Celebration
Tuesday, July 4
Families are invited to wear 2017 Peachtree Road Race t-shirts to receive half price admission with the purchase of a full-priced ticket.
11 a.m. and 1 p.m.: Special Story Time
"The Story of America's Birthday" written by Patricia A. Pingry presents the meaning behind Independence Day and helps children understand the connection between the American Revolution, Declaration of Independence and today's festivities.
3 p.m.: Special Music and Movement
Children can join the Imaginators in honoring America with a prideful parade and singing a roaring rendition of the "Star Spangled Banner," followed by "You're a Grand Ole Flag." The celebration will conclude with a special indoor "fireworks" display that involves feet and bubble wrap.
4 p.m.: Super Spectacular Science Show
Little ones can watch Professor Labcoat cook up Fourth of July fun! He and his assistants will share a fascinating science demonstration and questions are encouraged at the end of the show.
11 a.m. - 3:30 p.m.: Science Bar
Kids can learn how fireworks turn colors and all about can implosions at the special Fourth of July Science Bar.
10:30 a.m. – 4:30 p.m.: Art Studio
Families are invited to display their American pride by crafting a patriotic pinwheel to use in the parade!
10:30 a.m. – 4:30 p.m.: Build It Lab
Happy Birthday America! Children create a star spangled mobile made of sticks, streamers and string to brighten the holiday celebration.
Visiting Artist
Saturday, July 15
11 a.m. and 1 p.m.: Latitude Adjustment Steel
Music enthusiasts can slip away to tropical paradise with the sounds of Latitude Adjustment Steel. The group will perform a fun, interactive show featuring a mix of Calypso, Soca, Reggae, Latin and Pop music using what is considered by many to be the only genuinely new acoustic instrument invented during the 20th Century – the beautiful steel pan from Trinidad.
Ready, Set, School!
Monday through Friday, July 24-28
Little ones are invited to get ready for school with Children's Museum of Atlanta!
1 p.m.: Special Story Time
Gather around! Kids can catch up on summer reading by listening to the following stories throughout the week: "School's First Day of School" written by Adam Rex, "Llama Llama Misses Mama" written by Anna Dewdney and "How Do Dinosaurs Go to School?" written by Jane Yolen.
2 p.m.: Pack and Play
Children can help the Imaginators figure out what to bring on the first day of school during a cool school scavenger hunt in order to make it to the bus on time and sing the classic cong "The Wheels on the Bus!"
3 p.m.: Music and Movement
Get active! Kids can get moving and learn some fun recess games from the Imaginators to play on the first day of school.
10:30 a.m. – 4:30 p.m.: Art Studio
Go back to school in style. Little ones can get ready for the first day of school by making a personalized pencil case.
10:30 a.m. – 4:30 p.m.: Build It Lab
Families are invited to design and construct a custom crayon holder to stay organized!
For more information on the April program offerings or to support Children's Museum of Atlanta, visit childrensmuseumatlanta.org or call 404.659.KIDS [5437].